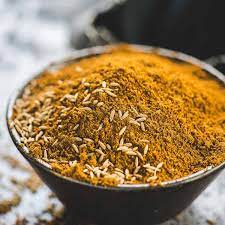 Cumin seeds are commonly known as jeera, highly grown in India, Middle Eastern Countries and northern parts of Africa. These seeds are boat shaped, bit longer with a distinctive warm earthy flavor and slightly bitter in taste. These seeds are popularly used in numerous cuisines such as Asian, African, Mediterranean and Central American. In India, cumin seeds are popularly used for tempering while cooking lentils and curries. These seeds release a tempting aroma when infused in hot oil which makes it an essential ingredient to have in every kitchen.

Cumin powder is one of the popular spices powder which is prepared by grinding the roasted cumin seeds. This aromatic powder is usually added to curd, salad and many more similar dishes to enhance the overall taste of the meal. Cumin powder is usually brown in colour with a shelf life of one year if stored in a cool & dry place properly. The reputed cumin powder manufacturers in India are known for supplying 100% organic powder to their customers. They use high quality food-grade packaging material to retain the freshness of the spices for a longer duration.
There are some scientific proven health benefits of cumin powder. Some of the benefits are as follows :-

Helps in weight loss: One of the popular uses of cumin is consuming jeera water for helping in weight loss. Drinking cumin water helps in boosting metabolic rate of the body which indeed aids in reducing weight.

Improves digestive health: Cumin also has some properties that act as painkillers. This helps in reducing stomach pain caused due to bloating, excessive gas, indigestion and other similar gastric issues. Cumin also helps in enhancing the functioning of the liver by releasing bile which contains various enzymes required for digestion.

Helps in maintaining cholesterol level: Cumin powder is found to be helpful in reducing the levels of bad cholesterol level i.e low density level (LDL) while increasing the level of good cholesterol i.e High Density level (HDL). This overall improves heart health.

Contains antioxidant and antibacterial properties: Cumin is rich in antioxidants like flavonoids, phenols, alkaloids which helps in preventing free radicals and UV rays of the sun. Also, regular consumption of cumin helps in preventing the growth of certain bacterial and fungi infections. It also helps in fighting common flu due to the presence of antibacterial properties.

Helps in regulating blood pressure level: Cumin is a great source of potassium which plays an important role in maintaining the levels of blood pressure. Hence, adding cumin powder in your diet ensures an adequate amount of potassium in your body.

Helps in managing diabetes: Cumin is rich in a bioactive compound called cuminaldehyde which helps in controlling the blood sugar level. It also helps in improving the insulin metabolism which prevents the development of this disease among people who are prone.

Thus, it can be strongly stated that cumin powder is really an incredible spice. As more and more studies are conducted, evidence of the numerous health benefits of cumin rapidly increases. Using a pinch of cumin as seasoning in your food has been proved to provide an adequate amount for your body to reap its numerous benefits. If still you haven't used cumin on a regular basis, do try it now and discover the various benefits of cumin powder.

Click here for more details - https://www.atharvastruenatural.co.in/
This entry was posted on December, 13, 2021 at 10 : 11 am and is filed under Cumin. You can follow any responses to this entry through the RSS 2.0 feed. You can leave a response from your own site.