4 Benefits Of Using Methi Powder For Hair Treatment At Home
Posted by Admin on October, 19, 2021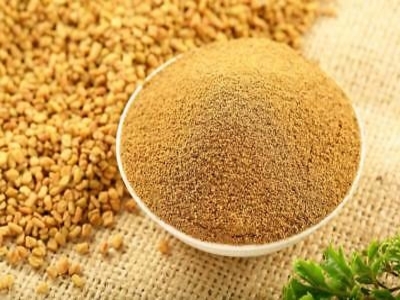 If you are raised in an Indian household, there are high chances that you are pretty familiar with the spice Fenugreek. This spice is not only used for culinary purposes but also aids in beauty treatment. Fenugreek is used in various herbal medicines and is rich in vitamins, iron etc. Commonly known as Methi in Indian households, the spice has a distinct flavour to it. Fenugreek or Methi seed is among the few spices that have a proven scientific benefit to it. This article will walk you through some benefits of using methi powder for hair treatment at home.

Encourages Hair Growth
If you are losing sleep over hair loss due to pollution, stress or poor appetite, etc, using methi powder in your hair care routine can come to your aid. Methi powder can help not only improve your hair texture but can also encourage hair growth. There are various ways to add Methi powder in your hair treatment, like blending the Methi powder with Heena powder to make a hair dye or using it with coconut oil, etc to apply in your hair to get effective results.

Curb Dandruff
Another common and tiring hair problem that many of us struggle to deal with. Dandruff, if not dealt with in time can lead to scalp damage and result in hair loss. To combat dandruff, you can make a paste out of methi powder and yoghurt and apply it on your hair scalp for a period of 15 to 20 minutes before washing it off with tap water.

Eliminates Premature Greying
Post-Covid, many youngsters and young adults are experiencing premature greying of hair. Since Methi seeds and powder are rich in potassium, they can help you fight against premature grey hair. To make a hair dye, make a mixture of amla, methi and henna powder along with coffee water and let it sit for about 40 minutes before rinsing it off with sulphate-free shampoo.

Makes Your Hair Look & Feel Shiny And Silky
Hot- air drying and chemical hair treatment, although can make your hair look stunning and feel beautiful, these treatments can leave your hair look lustre free and dry after regular use. Fenugreek powder can help rebuild your damaged hair –shaft leading to shiny and silky hair by conditioning it. It acts as a natural conditioner and helps you with elonging your hair life.

The above-discussed benefits are only among the few reasons to add fenugreek powder for making hair masks or hair dye. The fenugreek or methi powder can aid with moisturizing your hair, promote hair growth, help fight dandruff and prevent hair damage. Methi powder is readily available in several online stores and supermarkets at an economical price.

You can also avail methi powder in varying packaging sizes as per your need at the budgeted price from several Methi Powder Manufacturers in India. Make sure that the methi powder is sourced from the organic farm and is of high quality for best results when using it either for culinary purposes or for skincare or haircare treatment at home.
This entry was posted on October, 19, 2021 at 14 : 46 pm and is filed under Methi Powder. You can follow any responses to this entry through the RSS 2.0 feed. You can leave a response from your own site.